These blistered shishito peppers are restaurant-fancy. Smoky, oily, crispy, salty, irresistible. A dish this good seems difficult to make, but it is actually unbelievably easy. Like turn-on- a-pan-and-toss-some-peppers-in easy. Add some salt and you're ready to impress. Want next level goodness? We recommend a sprinkle of shichimi togarashi—a traditional spice blend of red chili, dried mandarin orange, Sichuan peppercorns, sesame and poppy seeds, and ground ginger. 
Prep time: 5 min.
Cook time: 7-10 min.
Serves: 4
1 lb. shishito peppers

2 tsp. high heat oil

Yuzo mayo

Shichimi togarashi (traditional 7 spice pepper blend)

Flaky sea salt
Step 1
Heat 2 tsp. oil in a large cast iron skillet on medium-high heat. Add peppers in a single layer. Several batches may be required to avoid crowding. Carefully turn with tongs every couple of minutes, allowing each side to blister. Cook 7 – 10 minutes. 
Step 2
Season with flaky salt and shichimi togarashi. Serve immediately with a side of citrusy yuzu mayo for dipping.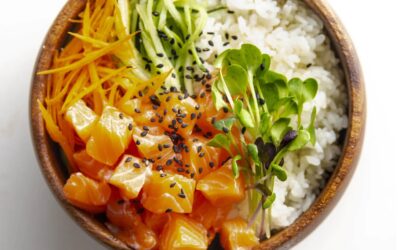 Hudson Valley Steelhead Poke Bowl Time: 25 min. Servings: 4 Ingredients 1lb Steelhead trout fillet 1/4 cup soy sauce 1 tsp rice wine or apple cider vinegar 1 tsp sesame oil 1 tsp siracha, chili paste or wasabi Pickled cucumber and carrots 2 x 6-inch Persian...