Dinner? Done!
Our easy weeknight meals are made with minimal ingredients, require few steps, and cost under $10 per serving! 
Crispy, crunchy, gingery, garlicky tofu with spicy saucy almond soba. We love everything about this vegan gluten-free noodle bowl, starting with how easy it is to make. Tofu and veggies roast to stir-fry perfection in just thirty minutes while you make soba noodles and whip up a delicious almond sauce. This recipe is great for a weeknight dinner or for meal-prepping for the week—it can easily be scaled up for more portions! 
Prep time: 30 min.
Cook time: 30 min.
Serves: 4
1 block firm tofu (we love local tofu by The Bridge!)

1 lb. frozen broccoli

¾ lb. Fresh-cut Organic Peppers from our produce department

1 package gluten-free soba noodles (we used King Soba Buckwheat & Sweet Potato)

4 tsp. coconut oil, divided

2 tsp. coconut aminos (or gluten-free tamari)

1 tsp. granulated garlic

½ tsp. ground ginger

Salt + pepper

Optional: fresh cilantro and scallion for garnish
For Spicy Almond Sauce: 
½ c almond butter

2 tsp. apple cider vinegar

3 tsp. coconut aminos

½ tsp. granulated garlic

⅛ tsp. (or more!) ground cayenne pepper

5 tbsp. water
Step 1
Preheat oven to 400°F. 
Step 2
Drain tofu. Wrap block in a clean tea towel and place on a plate; cover with a flat, heavy object (like a cast iron frying pan!). Allow tofu to press for 15-30 min. Slice tofu in half lengthwise, then cut horizontally into 1-in. strips. Season with coconut aminos, garlic and ginger (the ground spices act like cornstarch—helping to crisp the tofu during baking). Arrange in a single layer on a large baking sheet. Add 2-3 tsp. of coconut oil.
Step 3
Place broccoli and peppers on another baking sheet with 2 tsp. coconut oil. Season to taste with salt and black pepper. 
Step 4
Bake both sheet pans for 15 min. Flip tofu and stir vegetables. Bake for another 15-20 min. (until tofu is crispy and broccoli and peppers are starting to char). 
Step 5
To make the spicy almond sauce, combine all the ingredients except the water. Mix well. Add water, 1tbsp. at a time, stirring as you go, until you reach desired consistency. 
Step 6
Cook soba noodles according to package instructions and toss with spicy almond sauce. 
Step 7
Serve soba noodles topped with crispy tofu and vegetables, garnished with fresh cilantro and scallions.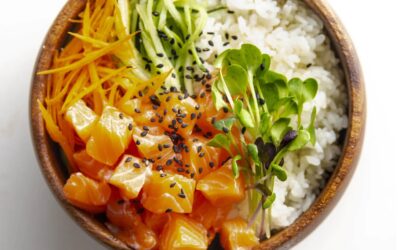 Hudson Valley Steelhead Poke Bowl Time: 25 min. Servings: 4 Ingredients 1lb Steelhead trout fillet 1/4 cup soy sauce 1 tsp rice wine or apple cider vinegar 1 tsp sesame oil 1 tsp siracha, chili paste or wasabi Pickled cucumber and carrots 2 x 6-inch Persian...