Dinner? Done!
Our easy weeknight meals are made with minimal ingredients, require few steps, and cost under $10 per serving! 
A twist on loaded baked potatoes, our vegan baked sweet potatoes with garlicky greens and crispy curry chickpeas hit all the notes. Served with a tangy coconut-lime crema and fresh herbs, these baked spuds are a meal in themselves but could also work as a satisfying side.
Prep time: 25 min.
Cook time: 1 h
Serves: 4
4 medium-sized sweet potatoes

2-3 small leeks

1 bunch Swiss chard (or 1 bag frozen chard)

2 15.5 oz cans chickpeas

3 cloves garlic

4 tsp. curry powder

High heat cooking oil

Salt and pepper

Optional: chopped fresh cilantro and/or parsley + lime wedges for garnish
For Coconut-Lime Crema:
4 oz. plain coconut yogurt (try Cocojune!)

2 tsp. tahini

1 lime

¼ tsp salt
Step 1
Preheat oven to 400°F. Prick sweet potatoes all over with a fork and place on baking sheet. Bake for 1 hour or until tender. 
Step 2
Meanwhile, rinse, drain and dry chickpeas. Toss with 2 tbsp. oil, 1 tsp. salt, and 4 tsp. curry powder and spread on a parchment-lined baking sheet. Add to oven and bake until crispy (about 45 minutes).
Step 3
Prep vegetables. Trim leeks and slice lengthwise. De-stem chard leaves. Cut leeks and stems in ¼ in. slices. Cut chard greens into 1 in. ribbons. Mince garlic. Heat 2 tsp. oil in Dutch oven or saute pan with lid on low heat. Add leeks and saute for 5 minutes, before adding stems and garlic. Cook for 5 more minutes. Add chard, stir and cover. Cook for an additional 10 minutes. Turn off heat and leave covered.
Step 4
To make the coconut-lime crema, combine yogurt, tahini, the juice of 1 lime, and a pinch of salt in a small bowl.
Step 5
Assemble loaded sweet potatoes! Slice baked sweet potatoes lengthwise. Stuff with greens and crispy chickpeas. Served with a dollop of coconut-lime crema, fresh cilantro or parsley, and a wedge of lime.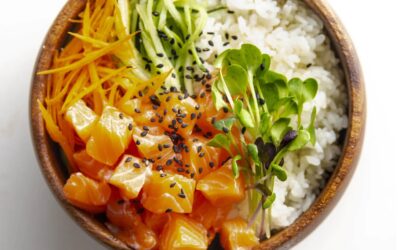 Hudson Valley Steelhead Poke Bowl Time: 25 min. Servings: 4 Ingredients 1lb Steelhead trout fillet 1/4 cup soy sauce 1 tsp rice wine or apple cider vinegar 1 tsp sesame oil 1 tsp siracha, chili paste or wasabi Pickled cucumber and carrots 2 x 6-inch Persian...