Dinner? Done!
Our easy weeknight meals are made with minimal ingredients, require few steps, and cost under $10 per serving! 
We have a confession to make. These nachos aren't really made with chorizo. Instead, we've sauteed inexpensive ground pork with fajita seasoning for a smokey chorizo-esque stand-in. We promise, you won't be disappointed! Our cheesy easy sheet pan chorizo nachos are fully loaded with melty pepper jack cheese, fiery jalapeños, fresh tomatoes, and, of course, guacamole and sour cream. Game on!
Prep time: 15 min.
Cook time: 15 min.
Serves: 4-6
1 lb. ground pork (we love Walden Hill!)

11 oz. tortilla chips (try Late July)

1 pkt. Simply Organic Fajita seasoning mix

3.8 oz. can Field Day black sliced olives, drained

6 oz. Rumiano Organic Cheese Pepper Jack Cheese Blend

½ pint grape tomatoes

½ bunch scallions

¼ bunch cilantro

2-3 jalape

ñ

os

Sour cream

Guacamole
Step 1
Preheat oven to 400° F. 
Step 2
Heat 1 tbsp. cooking oil in large skillet over low heat. Add ground pork. Cook until browned, stirring to break into small pieces (approximately 10 minutes on low). Drain and discard fat. Season pork with fajita seasoning. 
Step 3
Arrange tortilla chips on a sheet pan. Layer with "chorizo" and cheese. Bake for 10-12 minutes, until cheese is melted and chips are turning golden.
Step 4
Meanwhile, prepare toppings. Slice jalapeño and scallion. Quarter grape tomatoes. Separate cilantro leaves from stems. 
Step 5
Remove nachos from oven and garnish to your heart's content! Serve with sour cream, guacamole, and a stack of napkins.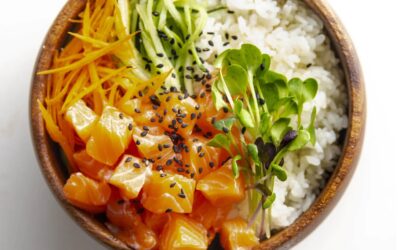 Hudson Valley Steelhead Poke Bowl Time: 25 min. Servings: 4 Ingredients 1lb Steelhead trout fillet 1/4 cup soy sauce 1 tsp rice wine or apple cider vinegar 1 tsp sesame oil 1 tsp siracha, chili paste or wasabi Pickled cucumber and carrots 2 x 6-inch Persian...