Dinner? Done!
Our easy weeknight meals are made with minimal ingredients, require few steps, and cost under $10 per serving! 
Nothing beats homemade sauce! This easy slow-cooker pasta pomodoro recipe uses basic pantry ingredients to take  pasta night to the next level. Canned San Marzano tomatoes marinate with olive oil and balsamic in the slow cooker for a bright, acidic, and surprisingly fresh-tasting sauce. For a heartier meal, serve with meatballs and accompany with a green salad and fresh bread. 
Prep time: 5 min.
Cook time: 6 hours
Serves: 4
4 14.5 oz. cans diced tomatoes* (try Muir Glen San Marzano Style with Basil + Garlic)

1 oz. fresh basil

2 tbsp. olive oil

1 tbsp. balsamic vinegar

Salt and pepper to taste

12 oz. spaghetti (we like Jovial Gluten-Free Pasta!)

Grated Pecorino cheese

* 4 cans yield enough sauce for two batches of pasta. Pro tip: freeze half for next time!
Step 1
Combine diced tomatoes, olive oil, balsamic vinegar, salt and pepper in a slow cooker. Chiffonade two large sprigs of basil. Add basil to tomatoes and stir. Set slow cooker to cook for 6 hours
Step 2
When the sauce is ready, cook pasta according to package instructions.
Step 3
Toss pasta with desired amount of sauce. Serve topped with fresh basil and grated pecorino cheese (substitute Parmesan if you prefer).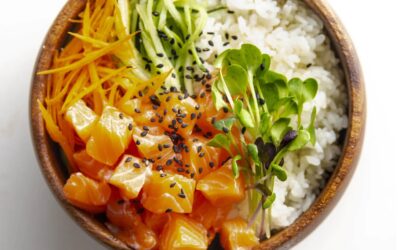 Hudson Valley Steelhead Poke Bowl Time: 25 min. Servings: 4 Ingredients 1lb Steelhead trout fillet 1/4 cup soy sauce 1 tsp rice wine or apple cider vinegar 1 tsp sesame oil 1 tsp siracha, chili paste or wasabi Pickled cucumber and carrots 2 x 6-inch Persian...