Customers at Pure Love Gluten-Free Bakery in Avon, CT, are greeted with a robust offering of savory and sweet baked goods. Each day the front tables are laden with English muffins (by far their best seller), pizza crust, and loaves of sliced bread—think pumpernickel, seed, rye, cinnamon raisin, and sourdough. The glass bakery case boasts chocolate chip cookies (the only sweet treat available on a daily basis) and a rotation of muffins, scones, and other sweet surprises such as baklava with walnuts, pistachios, and local honey and iced lemon pound cake. All of these goodies, every last one of them, are 100% gluten-free.
Sisters Karen Gauvain, a savory chef, and Lynn Seery, a pastry pro, joined culinary forces after Lynn was diagnosed with Celiac disease. Their goal in opening a gluten-free bakery was to offer alternatives that taste as good as—if not better than—the traditional baked goods that inspired their confections. Pure Love has built their business, and a huge fan following, based on how good food makes people feel good. On a mission to bake with only pure, clean ingredients, Karen and Lynn custom-blend their gluten-free flour mixes and source honey, eggs, maple syrup, and farm-fresh produce locally. 
Following customer feedback and their own creative compass, the bakers continually trial different recipes. While Pure Love remains dedicated to gluten-free, they also tailor their ever-expanding offerings to meet other special dietary needs including dairy-free, vegan, paleo, and keto. Prior to opening the bakery, Karen developed a low-sugar granola line that debuted with just one flavor.
Pure Love now makes small-batches of 20 different granolas throughout the year, including nods to the season like pumpkin and gingerbread and mainstays like pistachio matcha and toasted almond (the one that started it all!). The same experimentation with fun and flavor is evident in the selection of Pure Love baked goods regularly available at New Morning Market, including their black bean brownie bites, chocolate chip cookie pie and, of course, their famous English muffins.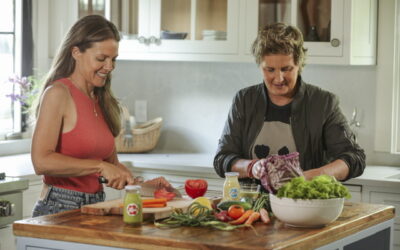 Tell us about Lisa's 1973Lisa's 1973 is a collection of refrigerated, ultra-clean, plant-based dressings and sauces filled with organic and functional ingredients - and what we've been told over and over again, phenomenal taste! We are 100% women-owned and...