Dinner? Done!
Our easy weeknight meals are made with minimal ingredients, require few steps, and cost under $10 per serving! 
A seasonal twist on the standard 'za. We've topped a pre-made gluten-free cauliflower crust with creamy pumpkin sauce, spicy baby arugula, and nutty Ewephoria sheep's milk gouda. While any cheese will do, Ewephoria comes highly recommended from our in-house cheese experts — while not an exceptional melter, this gouda boasts caramel notes which pair perfectly with the savory sweetness of this pizza. The fried sage leaf garnish reinforces all the fall flavors! 
Prep time: 10 min.
Cook time: 15 min.
Serves: 4
2-pack of Caulipower frozen pizza crust (or your favorite gluten-free pizza crust)

1 jar Cucina Antica Tuscany pumpkin sauce 

1 bunch fresh sage leaves

2 cups baby arugula for pizza (plus more for serving!) 

½ lb. Ewephoria gouda

1 tsp. olive oil, divided

¼ cup high heat cooking oil with a neutral flavor
Step 1
Preheat oven to 425 °F. Remove pre-made Caulipower cauliflower crusts from packaging and place on baking sheet.
Step 2
Using a potato peeler, shave the Gouda into long ribbons and set aside.
Step 3
To assemble pizzas, spread ½ cup of pumpkin sauce on each crust and evenly spread to within a 1/2 inch of the crust's edge. Layer one cup of baby arugula over sauce. Drizzle ½ tsp. olive oil on arugula to keep it from drying out. Sprinkle 1 cup of Gouda ribbons onto each pizza. Place in oven and bake 10 minutes.
Step 4
Meanwhile, heat high-heat cooking oil in a  small skillet over medium-high heat. Snip sage leaves from bunch. Once oil is hot, flash fry leaves, 5-6 at a time, for 3 seconds (or until crisp). Carefully remove from oil and place on paper towel to drain. 
Step 5
Remove pizza from oven and arrange fried sage leaves on top. Return to oven and bake another 5-10 minutes, until cheese is melty and crust is golden. If desired, serve topped with baby arugula!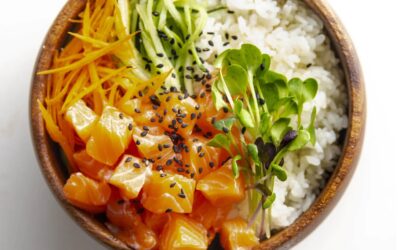 Hudson Valley Steelhead Poke Bowl Time: 25 min. Servings: 4 Ingredients 1lb Steelhead trout fillet 1/4 cup soy sauce 1 tsp rice wine or apple cider vinegar 1 tsp sesame oil 1 tsp siracha, chili paste or wasabi Pickled cucumber and carrots 2 x 6-inch Persian...