Dinner? Done!
Our easy weeknight meals are made with minimal ingredients, require few steps, and cost under $10 per serving! 
Our vegan black bean burrito bowl with kale and quinoa is perfect for an easy weeknight dinner or for make-ahead weekday lunches. It's vegan and gluten-free and can easily be tailored for individual tastes!
Prep time: 20 min.
Cook time: 15 min.
Serves: 4
1 cup quinoa, dried

5 oz. frozen corn kernels (½ package)

1 15.5 oz. can black beans, rinsed and drained

1 tsp. ground cumin

1 tsp. chili powder

1 tbsp. cooking oil

Salt + pepper

3 limes

½ bunch lacinato kale

2 scallions

⅓ bunch fresh cilantro

1 avocado

Your favorite salsa
Step 1
Strip kale leaves from stalks and place greens in a medium bowl. Add the juice of 1 ½ limes and a ¼ tsp. salt. Gently massage kale for 2-3 minutes—it should look slightly wilted. Set aside.
Step 2
Combine quinoa with 1 ¾ cups water in a pot. Cover and bring to boil on high heat. Once boiling, crack pot lid and reduce heat to simmer. Cook until all water is absorbed—about 15 minutes. Turn off heat and leave covered until serving. Fluff with fork when ready.
Step 3
Meanwhile, finely chop scallions and cilantro. Slice avocado. Quarter the remaining lime.
Step 4
When quinoa is almost done, heat a skillet on low. Add cumin and chili powder. Dry toast 2-3 minutes, until aromatic. Add oil, beans, and corn. Cook, stirring occasionally, until heated through, about 5 minutes. Add chopped cilantro and juice from the other ½  lime.
Step 5
Assemble bowls! Portion quinoa, beans and corn mixture, kale, scallion, avocado slices, and salsa among four bowls. Serve each with a lime wedge.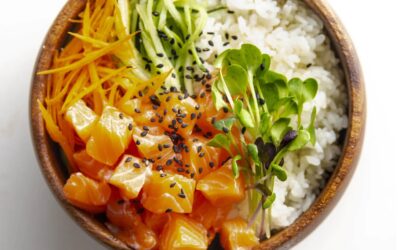 Hudson Valley Steelhead Poke Bowl Time: 25 min. Servings: 4 Ingredients 1lb Steelhead trout fillet 1/4 cup soy sauce 1 tsp rice wine or apple cider vinegar 1 tsp sesame oil 1 tsp siracha, chili paste or wasabi Pickled cucumber and carrots 2 x 6-inch Persian...