Dinner? Done!
Our easy weeknight meals are made with minimal ingredients, require few steps, and cost under $10 per serving! 
Enjoy this warm and hearty dinner salad with a fresh baguette. This recipe is easy to tailor to what you have on-hand. Substitute beets, butternut squash, sweet potatoes, or turnips for the Vegetable Roasting Mix. It also works well with salmon or chicken! Want a vegetarian option? Swap steak for 15 oz. of chickpeas and double the amount of walnuts.
Prep time: 15 min.
Cook time: 1 hour 10 min. 
Serves: 2-4
½ lb. Pineland Farms Beef Stir Fry Strips

5 oz. package of spring mix

1 package Fresh Cut Organic Root Vegetable Roasting Mix (or your own mix of chopped root vegetables)

1 package Organic Poultry Mix Herbs (fresh rosemary, sage, thyme)

2 oz. Vermont Creamery goat cheese

¼ c walnuts

¼ c dried cranberries

Salt + pepper

2 tbsp. high-heat cooking oil, divided

1 batch red wine thyme vinaigrette or your preferred dressing
For Red Wine Thyme Vinaigrette:
¼ c olive oil

2 tbsp. Red wine vinegar

1 large garlic clove, minced 

1 tbsp. fresh thyme, finely chopped

Combine all ingredients in a small jar and shake well. 
Step 1
Preheat oven to 350°F. Spread Root Vegetable Roasting Mix on a parchment-lined baking sheet; drizzle with 1 tbsp. high-heat cooking oil. Toss with minced fresh thyme, rosemary, and sage. Season with salt and pepper. Cook until tender (about 1 hour). 
Step 2
Remove vegetables from oven and turn up to 400°F. Heat a skillet over medium-low heat for pan-frying steak.
Step 3
Rub steak strips with 1 tbsp. oil and season with salt and pepper. Add to pan, searing for 2 min. on each side. Remove from skillet and place in oven-safe pan. Cook for 5-9 min. based on your preference. Let rest 5 min. before serving.
Step 4
Meanwhile, assemble salad. Toss 3-5 oz. of spring mix with roasted roots, cranberries, and walnuts. Sprinkle with crumbles of goat cheese and arrange steak strips. Drizzle with dressing and serve.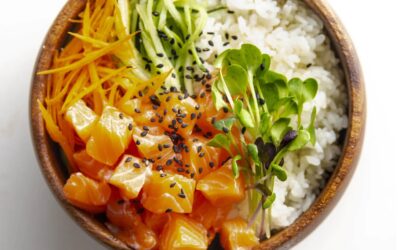 Hudson Valley Steelhead Poke Bowl Time: 25 min. Servings: 4 Ingredients 1lb Steelhead trout fillet 1/4 cup soy sauce 1 tsp rice wine or apple cider vinegar 1 tsp sesame oil 1 tsp siracha, chili paste or wasabi Pickled cucumber and carrots 2 x 6-inch Persian...