Dinner? Done!
Our easy weeknight meals are made with minimal ingredients, require few steps, and cost under $10 per serving! 
Charlotte's vegan cauliflower-potato-chickpea curry is a staff favorite! Ginger, garlic, and cilantro combine with the aromatic pop of curry for a hearty, flavorful dish. Enjoy with crispy naan or served over fluffy Basmati rice.  
Prep time: 15 min.
Cook time: 35 min.
Serves: 4
Price per serving: Under $7 per serving!
1 small yellow onion

1 small head cauliflower

3 Yukon Gold Potatoes

3 cloves garlic

1 jalape

ñ

o

Thumb-sized piece of ginger

½ bunch fresh cilantro (including stems!)

1 tbsp. curry powder

1 tbsp. garam masala powder

1 13.5 oz. can of coconut milk

1 15 oz. can of chickpeas, drained and rinsed

Salt + pepper, to taste

2 tbsp. coconut oil

1 cup Basmati rice, dried
Step 1
Dice onion and set aside. 
Step 2
Combine garlic, ginger, jalapeño (with seeds), and cilantro into a food processor. Pulse to form a course paste. Alternatively, chop by hand.
Step 3
Heat coconut oil in a dutch oven over medium-low heat. Add onions and saute until translucent (about 5 minutes), stirring occasionally. Mix in spices and season with salt and pepper. Add herb paste and stir to incorporate. 
Step 4
Meanwhile, cube potatoes and chop cauliflower into small florets. Add vegetables, chickpeas, coconut milk, and 1 cup of water to onions and mix well. Partially cover and reduce heat to low. Simmer until tender—about 30 minutes.
Step 5
Prepare rice. Add 1 cup of dry rice and 2 cups water to a rice cooker. For stovetop method, combine rice and water and bring to boil. Reduce heat to low and simmer, partially covered for 15 minutes. Turn off heat and tightly cover. Allow to steam for 10 more minutes. Fluff with fork. Serve topped with curry!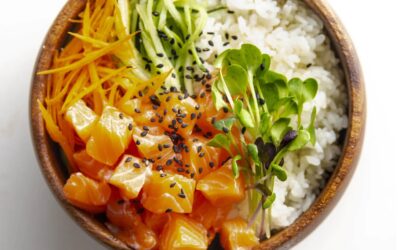 Hudson Valley Steelhead Poke Bowl Time: 25 min. Servings: 4 Ingredients 1lb Steelhead trout fillet 1/4 cup soy sauce 1 tsp rice wine or apple cider vinegar 1 tsp sesame oil 1 tsp siracha, chili paste or wasabi Pickled cucumber and carrots 2 x 6-inch Persian...