Dinner? Done!
Our easy weeknight meals are made with minimal ingredients, require few steps, and cost under $10 per serving! 
This creamy vegan red lentil + squash soup is velvety and smooth without using a food processor! The red lentils break down to a luscious mash and are combined with slow-roasted butternut squash, coconut milk, and the bold flavor of curry for an easy and irresistible fall staple. We promise you'll want to add this one to your weekly dinner rotation! 
Prep time: 5 min.
Cook time: 1 h
Serves: 2 hearty helpings
Price per serving: $8.49
2 cups dried red lentils (approximately 1 lb.)

1 13.5 oz. can coconut milk

1 medium butternut squash (about 3 lbs.) or 1 ¾ lbs. pre-cubed butternut squash

3 cups water

1 tbsp. curry powder

Salt and pepper, to taste

Optional garnishes: crispy butternut squash seeds, fresh cilantro 
Step 1
Pre-heat oven to 350°F. Prepare butternut squash—cut in half lengthwise, scoop out seeds and reserve. Place squash cavity side down on a rimmed baking sheet lined with parchment paper. Add 3 tbsp. of water (to help steam the squash) and place in oven.
Step 2
Meanwhile, combine 2 cups dry red lentils with 4 cups water in a large pot. Bring to boil on high and then reduce to low heat. Simmer until lentils are mushy—about 10-12 minutes—stirring periodically to avoid sticking. Cover, remove from heat, and set aside. 
Step 3
To make crispy squash seeds, place reserved squash seeds in a bowl. Pick off any chunks of squash flesh. Cover with water; rinse and drain in a colander. Towel dry and place on a parchment-lined baking sheet. Add 1 tsp. olive oil and a sprinkle of salt. Toss to coat and then spread into a single layer. Bake until golden and crispy, 25-30 minutes, stirring once. 
Step 3
Squash is ready when tender and starting to collapse on itself. Remove from oven and carefully flip cavity side up and allow to cool for five minutes. Using a spoon, scrape squash from skin and add to lentils. Stir well to combine. The mixture should be the consistency of a puree. 
Step 4
Season with salt and pepper and curry powder. Add coconut milk and stir. Begin adding water, a cup at a time, until soup riches your preferred thickness. Heat over low for 10 minutes and serve garnished with crispy seeds!
Pro tip: In a hurry? Swap 1 ¾ lbs. cubed squash for the whole butternut. Simply steam the cubed butternut for 20 minutes, or until tender enough to mash with a fork.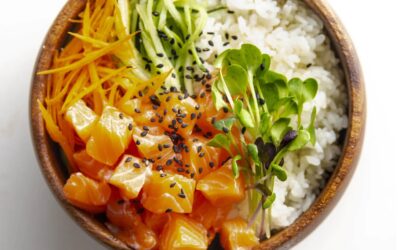 Hudson Valley Steelhead Poke Bowl Time: 25 min. Servings: 4 Ingredients 1lb Steelhead trout fillet 1/4 cup soy sauce 1 tsp rice wine or apple cider vinegar 1 tsp sesame oil 1 tsp siracha, chili paste or wasabi Pickled cucumber and carrots 2 x 6-inch Persian...