Dinner? Done!
Our easy weeknight meals are made with minimal ingredients, require few steps, and cost under $10 per serving! 
This hearty beef chili is a cinch to make! Simply brown the meat and then mix all ingredients in the slow cooker. Low and slow is key for hearty flavor development! Make it in the morning and dinner is ready when you get home.
Prep time: 15 min.
Cook time: 8 hours in a slow cooker on low 
Serves: 4
Price per serving: ~$6.30
1.15 lb. package Pineland Farms ground beef  

2 28oz. cans diced tomatoes (we love Muir Glen!)

1 package New Morning Market mirepoux mix

1 package New Morning Market cut peppers or 1 bell pepper

1 tbsp. cooking oil

Salt and black pepper, to taste

Half dozen rustic dinner rolls
Step 1
Heat 1 tbsp. cooking oil in large skillet over low heat. Add ground beef. Cook until browned, stirring occasionally (approximately 15 minutes on low). Drain and discard fat.
Step 2
Season ground beef with chili powder, cumin, salt and pepper.
Step 3
Add all ingredients to slow cooker and set to low. Cook for 8 hours on low, or until vegetables are tender.
Step 4
Serve with rustic dinner rolls! Optional: garnish each bowl with scallion, cilantro, and grated cheddar cheese.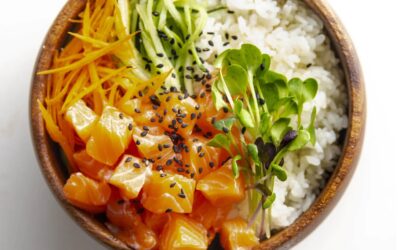 Hudson Valley Steelhead Poke Bowl Time: 25 min. Servings: 4 Ingredients 1lb Steelhead trout fillet 1/4 cup soy sauce 1 tsp rice wine or apple cider vinegar 1 tsp sesame oil 1 tsp siracha, chili paste or wasabi Pickled cucumber and carrots 2 x 6-inch Persian...