Dinner? Done!
Our easy weeknight meals are made with minimal ingredients, require few steps, and cost under $10 per serving! 
Who doesn't love breakfast for dinner? Simple and satisfying! The smokey deliciousness of local Walden Hill kielbasa pairs perfectly with an unbelievably easy hash of Yukon Gold potatoes, sweet potatoes, and carrots. Add a fried egg and fresh greens to stretch 2 servings into four!
Prep time: 5 min.
Cook time: 35 min.
Serves:2 hearty helpings; 4 portions if served with greens + fried egg
Price per serving: ~$9 (for 2)
1 package Walden Hill Kielbasa 

2 packages Cascadian Farm Organic Root Vegetable Hashbrowns

Avocado oil, salt, and black pepper

Optional garnishes: micro greens or sping mix, avocado slices, fried egg 
Step 1
Pre-heat oven to 350°F. Meanwhile, remove kielbasa links from package and cut into bite-sized pieces. Transfer to baking dish and drizzle with avocado oil or other high heat cooking oil of your choice. 
Step 2
Line 2  baking sheets with parchment paper. Spread one package of root vegetable hashbrowns per sheet. Avoid overcrowding—this is key for crunchy hashbrowns! Drizzle with oil and season with salt and pepper to taste.
Step 3
Bake both for approximately 35 minutes—or until desired crispiness. Rotate dishes halfway through cooking. 
Step 4
Serve with optional garnishes!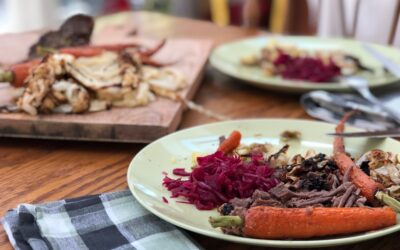 Garrett Valley Farms goes the extra mile to ensure our products are all natural to its truest definition. That means always free of antibiotics, nitrates, nitrites, preservatives, and artificial ingredients. Ingredients 3-5 lbs. Garett Valley corned beef...