Dinner? Done!
Our easy weeknight meals are made with minimal ingredients, require few steps, and cost under $10 per serving! 
Chicken Cordon Bleu on a work day? Sounds too good to be true, but it's not only possible but effortless thanks to our in-house butchers. They've rolled tender chicken breast with salty- smokey ham, Swiss cheese, and fresh herbs for a ready-to-bake dinner for two that's done in an hour. Pop it in the oven while you do a load of laundry or kick back after a long day.
Prep time: 5 min.
Cook time: 1 h
Serves: 2 hearty helpings
Price per serving: $8.49
1 package Chicken Cordon Bleu from New Morning Market's Meat Department

1 package cubed butternut squash 

1 package Tasty Bite Organic Ancient Grains (sub rice for a gluten-free version!)

Olive oil, salt, and black pepper
Step 1
Pre-heat oven to 350°F. Meanwhile remove chicken cordon bleu from packaging and place in baking dish. Rub with olive oil, black pepper, and a generous amount amount of salt. 
Step 2
Pour pre-cut butternut onto a baking sheet (line with parchment paper for even easier clean-up!). Splash with olive oil and season to taste with salt and pepper.
Step 3
Bake both for approximately 1 hour—until internal temperature of chicken reaches 165°F. Rotate dishes halfway through cooking. Cheese will bubble and crisp while cooking. When chicken is golden and squash tender, remove from oven. With scissors, carefully snip netting from chicken cordon bleu and slice. 
Step 4
Cook ancient grains according to package instructions. They only take a minute in the microwave!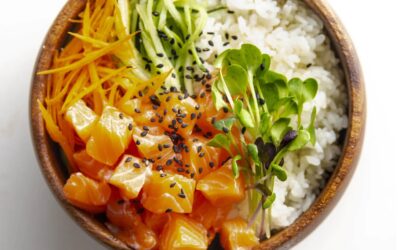 Hudson Valley Steelhead Poke Bowl Time: 25 min. Servings: 4 Ingredients 1lb Steelhead trout fillet 1/4 cup soy sauce 1 tsp rice wine or apple cider vinegar 1 tsp sesame oil 1 tsp siracha, chili paste or wasabi Pickled cucumber and carrots 2 x 6-inch Persian...