New Morning Market is proud to be independently owned and family-run. Since our early days—when a handful of staff used the back of our Hotchkissville location as ad hoc sleeping quarters—our team has grown to over 100 thoughtful, dedicated, and food-loving employees! Our amazing crew embodies and enacts New Morning's mission on a daily basis, helping us offer you the highest quality products and services that are healthy for both people and the planet.
John Pittari
Owner + President
John Pittari was one of New Morning Market's earliest shoppers. As a college student reckoning with an undesirable future as a chemist at General Electric, John discovered that through natural foods he could have a positive impact on the world. John traded a lucrative job at GE for a part-time position at New Morning. Within a year he was running the store. Within five years (in 1981), John purchased it. While the natural foods industry was still in its infancy, John helped carve out distribution channels where none existed—successfully impacting growers and food makers across a growing network of independent retailers. Under John's leadership, New Morning has outgrown three locations and received numerous awards and honors for our commitment to fostering a healthy and sustainable community through food. John serves on the board of the Pomperaug River Watershed Coalition, Connecticut's Northeast Organic Farming Association, and the Independent Natural Food Retailers Association. He resides in Bethlehem, CT, with his wife Jane and their Boston terrier Millie. John is the proud father of three wonderful children and the grandfather of two purely perfect grandchildren.  
Jane Pittari
Co-Owner
Jane Pittari has been involved with New Morning Market since it was paper plans in a briefcase. While friends with most of the original founders, Jane was still in high school at the time and not involved in the opening. After graduation, Jane  traveled and had her own business. She later met John Pittari when he began working at New Morning, while she was working at a natural food wholesaler called Earthbound (based in Woodbury and then Sandy Hook). Jane left Earthbound after their daughter Lucinda was born. Fun fact: Jane left the hospital after delivering Lucinda in order to sign the papers to purchase New Morning, and then returned to the hospital! Jane combined parenting, working here (with kids in tow), and going back to school. She taught at a Montessori school mornings and worked here in the afternoons for 6 years⁠—keeping the books, paying bills, ordering cards and other things, working the registers, and doing whatever else needed doing. Today, Jane can be found working in giftware and housewares. She enjoys connecting with our customers on a deeper level, sharing a sadness or joy and trying to improve that person's day⁠—even if just a little⁠—and likes when our customers tell her how much they love the cards she stocks. Outside of New Morning, Jane finds joy in her grandkids and tries to spend more time doing music, composing, and writing. She sings in a vocal choir and plays in a bell choir. One of her most exciting moments was playing bells at Carnegie Hall!
Lucinda Pittari
Director of Business & Operations
Lucinda Pittari grew up in New Morning Market's aisles, working in nearly every area of the store before she went to Boston for college. Although her degrees are in the Arts, the world of food and drink in which Lucinda grew up, however, called her back. Lucinda worked as Assistant Manager at Sherry-Lehmann Wines in NYC and later became a Farmer's Market Manager for New York's Greenmarkets. In working with GrowNYC, Lucinda especially enjoyed witnessing the on-the-ground innovation and evolution of food producers and farmers. In this direct-to-consumer retail environment, producers would get feedback from their customers in real time and be able to apply it and adapt to better ensure their business growth and sustainability. In her current role at New Morning, Lucinda is excited to spearhead the same opportunities for local producers. 
Lori Pittari
CFO + Vice President of Finance and Administration
Lori Pittari is the CFO and Vice President of Finance and Administration for New Morning Market. She received her B.A. in accounting from Western Connecticut University, leading her to an over 30- year career in finance. Much of her career was spent as a controller for construction companies where she was responsible for all internal financial management—often being brought onto struggling companies and organizations to solidify their success. Lori has also held the position of president of her local chapter of Business Networking International. Her current work with New Morning has led to the successful implementation of many new systems and procedures, bringing the store and her staff of over 100 to new levels of achievement. Lori resides in Connecticut with her husband of 23+ years. Together they share four beautiful children, 2 incredible grandchildren (she hopes more are on the way), three dogs, and two birds.
Paul Chan
Meat + Seafood Manager
Paul Chan joined New Morning Market in 2012 as our Meat + Seafood Manager. He loves interacting with our customers, and especially enjoys sharing cooking tips. Paul first learned how to cook traditional Cantonese food while spending time in the kitchen with his family. His home cooking knowledge grew into a passion while he was working as a freelance fashion portrait photographer. After attending art school, Paul worked on fashion collections in Paris with Richard Avedon and then moved to city to grow his photography career—here he was exposed to fine dining and a world of previously unknown international flavors. Paul continued to explore food and cooking during his decade-long photography career (in which he shot two cover images for Glamour magazine!). He made the career leap into catering and prepared foods in 2000. Paul remains connected to the world of art through his college-aged daughter, Anneke.  
Carmen Dematteis
Provender Manager
Chef Carmen Dematteis joined New Morning Market in 2014 after garnering fourteen years of professional culinary experience in kitchens from Mexico to Southern California. She fell in love with food in her grandmother's kitchen in Oakville, CT, and gained her first production experience working with her parents to prepare meals and host guests at a sustainable community outside of Mexico City. Carmen worked at the iconic Zinc Café & Market and specialty Z Pizza before becoming head chef at A La Carte, a go-to lunch spot with two locations and an extensive catering department. As Provender Manager, Carmen oversees food production, as well as New Morning's specialty cheese department and café. Carmen grew up with New Morning and is grateful to remain a part of their community today. She loves making people happy with the food her team creates!
Lisa Cipriano
Cheese + Gourmet Foods Buyer
Lisa Cipriano has been with us since 2012 and is now the Cheese and Gourmet Foods Buyer, as well as Lead Cheesemonger. She loves our customers and tries her best to remember everyone's favorite cheese! Lisa has fun procuring the best tastes in the business, and says each delivery is like a holiday. She also loves traveling to food shows to source new and interesting products! Prior to New Morning, she operated her own art supplies business. Lisa is a homebody who loves to cook, garden, and tend to her chickens and two Italian Greyhounds. She lives with her husband of 28+ years, and says her best accomplishment is being the mother of her son Jason.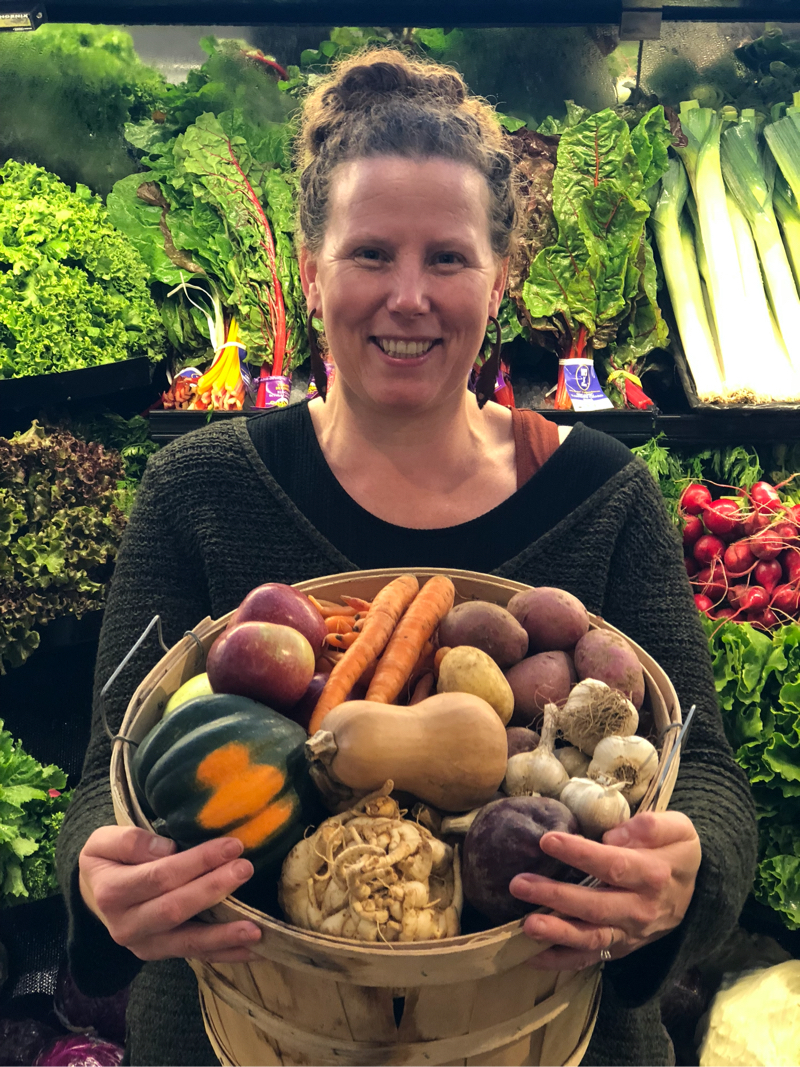 Kerry Noski
Produce Manager
Kerry has been learning something new about food at New Morning every (work) day since 2002. As our Produce Manager, she is inspired by building relationships with local organic farms and farmers and thereby helping their farms survive and thrive. Kerry is grateful to work for John and Jane, who are amazing and care so much about the world at large and have become family to her. She also says our customers, staff, and farmers have become part of her big New Morning family, and she enjoys watching their children grow and building relationships with them. Over the years, she has made so many irreplaceable friendships with so many amazing people! "Produce rules!" In her down time, Kerry enjoys spending time with her family and friends, and works hard to raise a decent human (her adorable son Felix!).
Candy Platt
Customer Experience Manager
Candy Platt joined New Morning Market in 2019 as our Retail Floor and Customer Experience Lead. She loves how her position gives her the opportunity to create lasting relationships with our customers, assisting them not only in the store but also out in the community. Candy brings a 15-year career in customer service and retail and is excited to expand her knowledge for health and sustainability in a role where she can use her service expertise to support customers at all points of their experience here. Candy is a Southbury native and lives there still with her husband and daughter. She enjoys spending time on their dairy farm, where they are the 9th generation working the farm! In free moments, her family loves spending time hiking and exploring the farm. They are also becoming avid kayakers. 
Christy Spinelli
Assistant Provender Manager
Christy Spinelli joined New Morning Market in 2010, after working in food service and teaching children's art classes, and is now the Assistant Provender Manager. She oversees the Grille, our prepared foods case, and our large selection of freshly baked breads, bagels, and sweet treats from local vendors. She feels fortunate for her "work family" (which at times has included her real family; both her children have worked in the Provender!). Christy says the staff continually inspire her with their strength, remind her of the importance of kindness, make her laugh, and teach her through their advice and guidance. Raised in Southbury, Christy now resides in Middlebury with her husband of 27+ years. Outside of work, her favorite thing to do is walk in the woods with dear friends, family, and her three pugs.