Hudson Valley Steelhead Poke Bowl
Time: 25 min.
Servings: 4
1lb Steelhead trout fillet
1/4 cup soy sauce
1 tsp rice wine or apple cider vinegar
1 tsp sesame oil
1 tsp siracha, chili paste or wasabi
Pickled cucumber and carrots

2 x 6-inch Persian cucumbers, julienned

2 x 8-inch carrots, peeled and julienned

½ cup rice wine vinegar

½ cup cold water

¼ cup honey

1 tsp salt

½ tsp dry chili flakes

½ tsp mustard seeds
Suggested Additions:
1 cup shelled edamame

1 cup sliced avocado

½ cup pickled ginger

¼ cup sliced green scallion

¼ cup sesame seeds

2 cups white rice
Step 1
Skin and dice steelhead into ½ inch cubes
Step 2
In a medium-sized bowl combine diced steelhead, soy sauce, vinegar, sriracha and sesame oil. Mix, cover and refrigerate
Step 3
Combine vinegar, water, honey, mustard seeds, salt and chili flakes in a medium-sized saucepan and bring to a boil over high heat
Step 4
Once boiling, turn off the heat, cool for 10 minutes, add cucumber and carrots and stir
Step 5
Let rest 10 minutes in refrigerator, then transfer cucumber and carrots to a container, cover and refrigerate until ready to use
Step 6
To serve, add any of the suggested additional ingredients to the bowl
Step 7
Top with ½ cup steelhead poke, pickled vegetables and other toppings
Hudson Valley Fisheries was inspired by their commitment to food security and environmental stewardship. Their goal is to protect wild fish populations and the environment through dedicated animal care and an advanced recirculating aquaculture technology.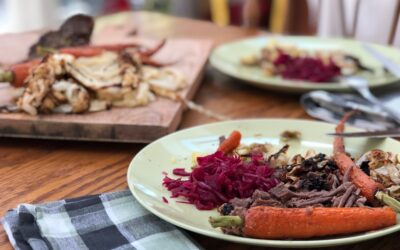 Garrett Valley Farms goes the extra mile to ensure our products are all natural to its truest definition. That means always free of antibiotics, nitrates, nitrites, preservatives, and artificial ingredients. Ingredients 3-5 lbs. Garett Valley corned beef...